A compost box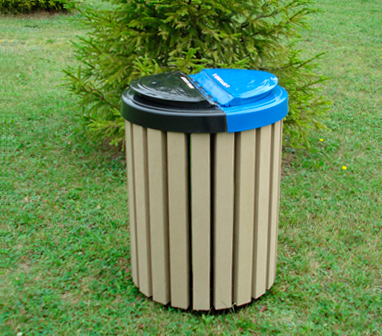 In order to meet recyclers' needs while providing manufacturers a consistent, uniform system, a coding system is developed. The recycling code for plastics was introduced in 1988 by plastics industry through the Society of the Plastics Industry, Inc. Because municipal recycling programs traditionally have targeted packaging—primarily bottles and containers—the resin coding system offered a means of identifying the resin content of bottles and containers commonly found in the residential waste stream.
Every year, millions of tons of materials are being exploited from the earth's crust, and processed into consumer and capital goods. After decades to centuries, most of these materials are "lost". With the exception of some pieces of art or religious relics, they are no longer engaged in the consumption process. Where are they? Recycling is only an intermediate solution for such materials, although it does prolong the residence time in the anthroposphere. For thermodynamic reasons, however, recycling cannot prevent the final need for an ultimate sink.
Recycling bins are a common element of municipal kerbside collection programs, a compost box which frequently distribute the bins to encourage participation.
Many recycling bins are designed to be easily recognizable, and are marked with slogans promoting recycling on a blue or green background. Others are intentionally unobtrusive. Bins are sometimes different colors so that user may differentiate between the types of materials to be placed in them. While there is no universal standard, the color blue is commonly used to indicate a bin is for recycling in public settings.
Both minimum recycled content mandates and utilization rates increase demand directly by forcing manufacturers to include recycling in their operations. Content mandates specify that a certain percentage of a new product must consist of recycled material. Utilization rates are a more flexible option: industries are permitted to meet the recycling targets at any point of their operation or even contract recycling out in exchange for tradeable credits. Opponents to both of these methods point to the large increase in reporting requirements they impose, and claim that they rob industry of necessary flexibility.