Achat composteur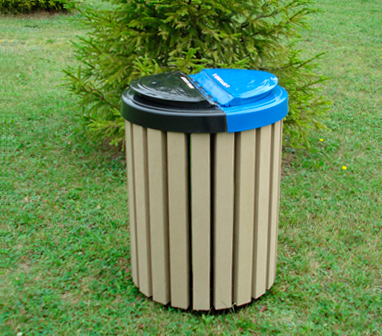 The military recycles some metals. The U.S. Navy's Ship Disposal Program uses ship breaking to reclaim the steel of old vessels. Ships may also be sunk to create an artificial reef. Uranium is a very dense metal that has qualities superior to lead and titanium for many military and industrial uses. The uranium left over from processing it into nuclear weapons and fuel for nuclear reactors is called depleted uranium, and it is used by all branches of the U.S. military use for armour-piercing shells and shielding.
In some cases, the cost of recyclable materials also exceeds the cost of raw materials. Virgin plastic resin costs 40 percent less than recycled resin.[56] Additionally, a United States Environmental Protection Agency (EPA) study that tracked the price of clear glass from July 15 to August 2, 1991, found that the average cost per ton ranged from $40 to $60, while a USGS report shows that the cost per ton of raw silica sand from years 1993 to 1997 fell between $17.33 and $18.10.
A third method of increase supply of recyclates is to ban the disposal of certain materials as waste, often including used oil, old batteries, tires and garden waste. One aim of this method is to create a viable economy for proper disposal of banned products. Care must be taken that enough of these recycling services exist, or such bans simply lead to increased illegal dumping.
Origins of recycpling
Recycling has been a common practice for most of human history, with recorded advocates as far back as Plato in 400 BC. During periods when resources were scarce, archaeological studies of ancient waste dumps show less household waste (such as ash, broken tools and pottery)—implying more waste was being recycled in the absence of new material.
Beverage bottles were recycled with a refundable deposit at some drink manufacturers in Great Britain and Ireland around 1800, notably Schweppes. An official recycling system with refundable deposits was established in Sweden for bottles in 1884 and aluminium beverage cans in 1982, by law, leading to a recycling rate for beverage containers of 84–99 percent depending on type, and average use of a glass bottle is over 20 refills.