Bac à déchets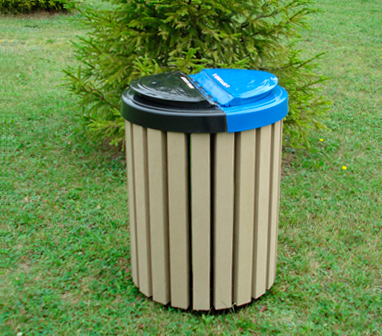 In certain areas there is also a recycling service, often with one or more dedicated bins intended to receive items that can be recycled into new products. These bins are sometimes separated into different categories (usually represented by colours) which determine what materials can be inserted into the bin. The contents of the bins are taken to a recycling plant to be processed, and there are various systems for recycling-bin collection: single-bin-combined stream systems, multiple-bin systems, and cyclic collections with different materials collected on different days.
Recycling is a process using materials (waste) into new products to prevent waste of potentially useful materials, reduce the consumption of fresh raw materials, reduce energy usage, reduce air pollution (from incineration) and water pollution (from landfilling) by reducing the need for "conventional" waste disposal, bac à déchets and lower greenhouse gas emissions as compared to plastic production. Recycling is a key component of modern waste reduction and is the third component of the "Reduce, Reuse, Recycle" waste hierarchy.
Both minimum recycled content mandates and utilization rates increase demand directly by forcing manufacturers to include recycling in their operations. Content mandates specify that a certain percentage of a new product must consist of recycled material. Utilization rates are a more flexible option: industries are permitted to meet the recycling targets at any point of their operation or even contract recycling out in exchange for tradeable credits. Opponents to both of these methods point to the large increase in reporting requirements they impose, and claim that they rob industry of necessary flexibility.
Tierney also points out that "the prices paid for scrap materials are a measure of their environmental value as recyclables. Scrap aluminum fetches a high price because recycling it consumes so much less energy than manufacturing new aluminum."
In 2003, the city of Santa Clarita, California, was paying $28 per ton to put garbage into a landfill. The city then adopted a mandatory diaper-recycling program that cost $1,800 per ton.[citation needed]