Compost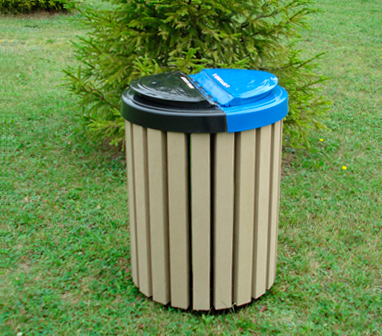 In order to meet recyclers' needs while providing manufacturers a consistent, uniform system, a coding system is developed. The recycling code for plastics was introduced in 1988 by plastics industry through the Society of the Plastics Industry, Inc. Because municipal recycling programs traditionally have targeted packaging—primarily bottles and containers—the resin coding system offered a means of identifying the resin content of bottles and containers commonly found in the residential waste stream.
In a 2002 article for The Heartland Institute, Jerry Taylor, director of natural resource studies at the Cato Institute, wrote, "If it costs X to deliver newly manufactured plastic to the market, for example, but it costs 10X to deliver reused plastic to the market, we can conclude the resources required to recycle plastic are 10 times more scarce than the resources required to make plastic from scratch. And because recycling is supposed to be about the conservation of resources, mandating recycling under those circumstances will do more harm than good."
Some industries, like the renewable energy industry and solar photovoltaic technology in particular, are being proactive in setting up recycling policies even before there is considerable volume to their waste streams, anticipating future demand during their rapid growth.
The wheelie bin is a waste container on wheels designed to make it easier for users to transport heavy loads of refuse to the curb or other pick-up point. George Dempster invented the Dempster-Dumpster system in the 1930s for automatically loading the contents of standardized mobile steel containers onto the dustcart. This led to the classic Dempster Dumpmaster waste collection vehicle of the 1950s, but wheelie bins did not become commonplace until the 1970s. The term dumpster is frequently used as a generic term for a large MGB or the non-mobile variety (known as a skip in the UK or Australia) in the United States. compost
In the US residential wheelie bins are also generically called "Herbie Curbies." The modern bin is a German invention of the 1970s in a patent held by Schneider, and licensed to other companies outside Germany.
Both minimum recycled content mandates and utilization rates increase demand directly by forcing manufacturers to include recycling in their operations. Content mandates specify that a certain percentage of a new product must consist of recycled material. Utilization rates are a more flexible option: industries are permitted to meet the recycling targets at any point of their operation or even contract recycling out in exchange for tradeable credits. Opponents to both of these methods point to the large increase in reporting requirements they impose, and claim that they rob industry of necessary flexibility.