Composter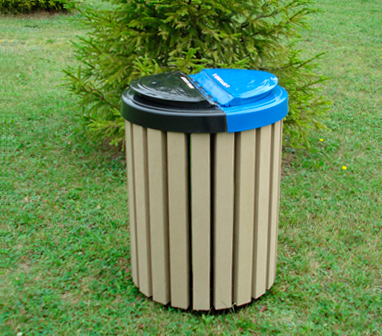 There are some ISO standards relating to recycling such as ISO 15270:2008 for plastics waste and ISO 14001:2004 for environmental management control of recycling practice.
Recyclable materials include many kinds of glass, paper, metal, plastic, textiles, and electronics. Although similar in effect, the composting or other reuse of biodegradable waste—such as food or garden waste—is not typically considered recycling. Composter. Materials to be recycled are either brought to a collection center or picked up from the curbside, then sorted, cleaned, and reprocessed into new materials bound for manufacturing.
Certain public areas such as parks have litter bins which are placed alongside paths frequently walked by visitors. Composter This encourages people to avoid littering, as littering creates an unhealthy and aesthetically unpleasant social environment.
Many recycling bins are designed to be easily recognizable, and are marked with slogans promoting recycling on a blue or green background. Others are intentionally unobtrusive. Bins are sometimes different colors so that user may differentiate between the types of materials to be placed in them. While there is no universal standard, the color blue is commonly used to indicate a bin is for recycling in public settings.
Every year, millions of tons of materials are being exploited from the earth's crust, and processed into consumer and capital goods. After decades to centuries, most of these materials are "lost". With the exception of some pieces of art or religious relics, they are no longer engaged in the consumption process. Where are they? Recycling is only an intermediate solution for such materials, although it does prolong the residence time in the anthroposphere. For thermodynamic reasons, however, recycling cannot prevent the final need for an ultimate sink.
Bins in outdoor locations or other busy public areas are usually mounted to the ground or floor. Composter This discourages theft, and also reduces vandalism by making it harder for the bins to be physically moved or maneuvered.