Composteurs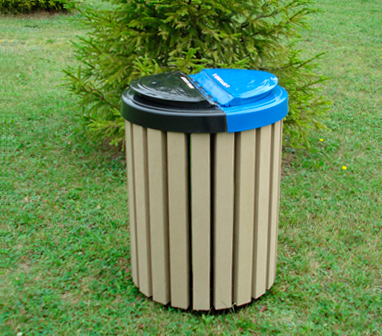 Beverage bottles were recycled with a refundable deposit at some drink manufacturers in Great Britain and Ireland around 1800, notably Schweppes. An official recycling system with refundable deposits was established in Sweden for bottles in 1884 and aluminium beverage cans in 1982, by law, leading to a recycling rate for beverage containers of 84–99 percent depending on type, and average use of a glass bottle is over 20 refills.
In a 2002 article for The Heartland Institute, Jerry Taylor, director of natural resource studies at the Cato Institute, wrote, "If it costs X to deliver newly manufactured plastic to the market, for example, but it costs 10X to deliver reused plastic to the market, we can conclude the resources required to recycle plastic are 10 times more scarce than the resources required to make plastic from scratch. And because recycling is supposed to be about the conservation of resources, mandating recycling under those circumstances will do more harm than good."
The construction industry may recycle concrete and old road surface pavement, selling their waste materials for profit.
In some U.S. states, a program called RecycleBank pays people to recycle, receiving money from local municipalities for the reduction in landfill space which must be purchased. It uses a single stream process in which all material is automatically sorted.
Plastic products are printed with numbers 1–7 depending on the type of resin. Type 1 plastic, PET (or PETE): polyethylene terephthalate, is commonly found in soft drink and water bottles. Type 2, HDPE: high-density polyethylene is found in most hard plastics such as milk jugs, laundry detergent bottles, and some dishware. Type 3, PVC or V (vinyl), includes items like shampoo bottles, shower curtains, hoola hoops, credit cards, wire jacketing, medical equipment, siding, and piping. Type 4, called LDPE, or low-density polyethylene, is found in shopping bags, squeezable bottles, tote bags, clothing, furniture, and carpet. Type 5 is PP which stands for polypropylene and makes up syrup bottles, straws, Tupperware, and some automotive parts. Type 6 is PS: polystyrene and makes up meat trays, egg cartons, clamshell containers and compact disc cases. Type 7 includes all other plastics like bulletproof materials, 3- and 5-gallon water bottles, and sunglasses.Types 1 and 2 are the most commonly recycled.