Containers has waste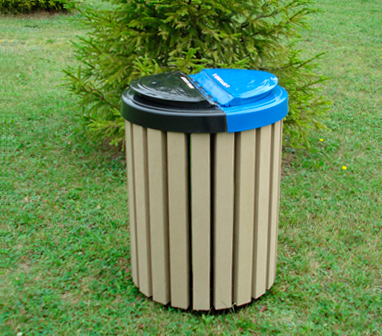 In a 2007 article, Michael Munger, chairman of political science at Duke University, wrote that "if recycling is more expensive than using new materials, it can't possibly be efficient.... There is a simple test for determining whether something is a resource... or just garbage... If someone will pay you for the item, it's a resource.... But if you have to pay someone to take the item away,... then the item is garbage."
For a recycling program to work, having a large, stable supply of recyclable material is crucial. Three legislative options have been used to create such a supply: mandatory recycling collection, container deposit legislation, and refuse bans. Mandatory collection laws set recycling targets for cities to aim for, usually in the form that a certain percentage of a material must be diverted from the city's waste stream by a target date. The city is then responsible for working to meet this target.
Many recycling bins are designed to be easily recognizable, and are marked with slogans promoting recycling on a blue or green background. Others are intentionally unobtrusive. Bins are sometimes different colors so that user may differentiate between the types of materials to be placed in them. While there is no universal standard, the color blue is commonly used to indicate a bin is for recycling in public settings.
Levels of metals recycling are generally low. In 2010, the International Resource Panel, hosted by the United Nations Environment Programme (UNEP) published reports on metal stocks that exist within society and their recycling rates. The Panel reported that the increase in the use of metals during the 20th and into the 21st century has led to a substantial shift in metal stocks from below ground to use in applications within society above ground. For example, the in-use stock of copper in the USA grew from 73 to 238 kg per capita between 1932 and 1999.
In order to meet recyclers' needs while providing manufacturers a consistent, uniform system, a coding system is developed. The recycling code for plastics was introduced in 1988 by plastics industry through the Society of the Plastics Industry, Inc. Because municipal recycling programs traditionally have targeted packaging—primarily bottles and containers—the resin coding system offered a means of identifying the resin content of bottles and containers commonly found in the residential waste stream.