Garbage recycling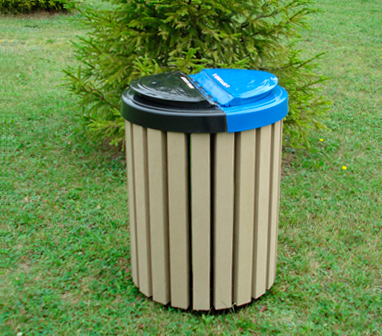 However, comparing the market cost of recyclable material with the cost of new raw materials ignores economic externalities—the costs that are currently not counted by the market. Creating a new piece of plastic, for instance, may cause more pollution and be less sustainable than recycling a similar piece of plastic, but these factors will not be counted in market cost. A life cycle assessment can be used to determine the levels of externalities and decide whether the recycling may be worthwhile despite unfavorable market costs. Alternatively, legal means (such as a carbon tax) can be used to bring externalities into the market, so that the market cost of the material becomes close to the true cost.
Legislation has also been used to increase and maintain a demand for recycled materials. Four methods of such legislation exist: minimum recycled content mandates, utilization rates, procurement policies, recycled product labeling.
In some countries there are large (5 cubic meters and more) waste containers serving several buildings. Garbage recycling special garbage trucks have been developed for raising these heavy containers and emptying them. Another option is a truck that replaces the container with a clean one, and takes the whole container to the garbage depot.
The glass, lumber, wood pulp, and paper manufacturers all deal directly in commonly recycled materials. However, old rubber tires may be collected and recycled by independent tire dealers for a profit.
The smaller wheelie bins, for domestic or light commercial use, typically hold 120 to 360 litres (26 to 79 imp gal; 32 to 95 US gal), with 240 litres (53 imp gal; 63 US gal) being the most common. They have a hinged flap lid and two wheels on the bottom on the same side as the lid hinge. There is a bar behind the hinge on the top of the bin which is used to move it, or to hoist it up onto a garbage truck for emptying. Garbage recycling The 240 litre bin is usually considered to have the same capacity as three traditional waste containers. In the UK, "wheelie bins" for non-recyclable domestic waste are currently collected either weekly or once a fortnight, depending on the local Council's waste management policies.