Gestion des déchets industriels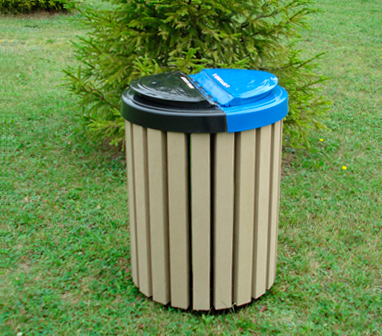 Many recycling bins are designed to be easily recognizable, and are marked with slogans promoting recycling on a blue or green background. Others are intentionally unobtrusive. Bins are sometimes different colors so that user may differentiate between the types of materials to be placed in them. While there is no universal standard, the color blue is commonly used to indicate a bin is for recycling in public settings.
In a 2007 article, Michael Munger, chairman of political science at Duke University, wrote that "if recycling is more expensive than using new materials, it can't possibly be efficient.... There is a simple test for determining whether something is a resource... or just garbage... If someone will pay you for the item, it's a resource.... But if you have to pay someone to take the item away,... then the item is garbage."
There are some ISO standards relating to recycling such as ISO 15270:2008 for plastics waste and ISO 14001:2004 for environmental management control of recycling practice.
Recyclable materials include many kinds of glass, paper, metal, plastic, textiles, and electronics. Although similar in effect, the composting or other reuse of biodegradable waste—such as food or garden waste—is not typically considered recycling. Gestion des déchets industriels. Materials to be recycled are either brought to a collection center or picked up from the curbside, then sorted, cleaned, and reprocessed into new materials bound for manufacturing.
Legislation has also been used to increase and maintain a demand for recycled materials. Four methods of such legislation exist: minimum recycled content mandates, utilization rates, procurement policies, recycled product labeling.
The glass, lumber, wood pulp, and paper manufacturers all deal directly in commonly recycled materials. However, old rubber tires may be collected and recycled by independent tire dealers for a profit.