Home compost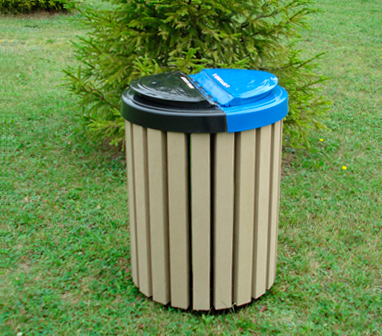 Recycling is a process using materials (waste) into new products to prevent waste of potentially useful materials, reduce the consumption of fresh raw materials, reduce energy usage, reduce air pollution (from incineration) and water pollution (from landfilling) by reducing the need for "conventional" waste disposal, home compost and lower greenhouse gas emissions as compared to plastic production. Recycling is a key component of modern waste reduction and is the third component of the "Reduce, Reuse, Recycle" waste hierarchy.
Economist Steven Landsburg has suggested that the sole benefit of reducing landfill space is trumped by the energy needed and resulting pollution from the recycling process. Others, however, have calculated through life cycle assessment that producing recycled paper uses less energy and water than harvesting, pulping, processing, and transporting virgin trees. When less recycled paper is used, additional energy is needed to create and maintain farmed forests until these forests are as self-sustainable as virgin forests.
Tierney also points out that "the prices paid for scrap materials are a measure of their environmental value as recyclables. Scrap aluminum fetches a high price because recycling it consumes so much less energy than manufacturing new aluminum."
In pre-industrial times, there is evidence of scrap bronze and other metals being collected in Europe and melted down for perpetual reuse.[4] In Britain dust and ash from wood and coal fires was collected by 'dustmen' and downcycled as a base material used in brick making. The main driver for these types of recycling was the economic advantage of obtaining recycled feedstock instead of acquiring virgin material, as well as a lack of public waste removal in ever more densely populated areas.[3] In 1813, Benjamin Law developed the process of turning rags into 'shoddy' and 'mungo' wool in Batley, Yorkshire. This material combined recycled fibres with virgin wool. Home compost The West Yorkshire shoddy industry in towns such as Batley and Dewsbury, lasted from the early 19th century to at least 1914.
However, comparing the market cost of recyclable material with the cost of new raw materials ignores economic externalities—the costs that are currently not counted by the market. Creating a new piece of plastic, for instance, may cause more pollution and be less sustainable than recycling a similar piece of plastic, but these factors will not be counted in market cost. A life cycle assessment can be used to determine the levels of externalities and decide whether the recycling may be worthwhile despite unfavorable market costs. Alternatively, legal means (such as a carbon tax) can be used to bring externalities into the market, so that the market cost of the material becomes close to the true cost.