Home composting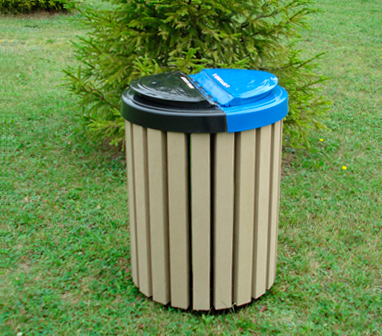 Recycling is a process using materials (waste) into new products to prevent waste of potentially useful materials, reduce the consumption of fresh raw materials, reduce energy usage, reduce air pollution (from incineration) and water pollution (from landfilling) by reducing the need for "conventional" waste disposal, home composting and lower greenhouse gas emissions as compared to plastic production. Recycling is a key component of modern waste reduction and is the third component of the "Reduce, Reuse, Recycle" waste hierarchy.
Certain requirements must be met for recycling to be economically feasible and environmentally effective. These include an adequate source of recyclates, a system to extract those recyclates from the waste stream, a nearby factory capable of reprocessing the recyclates, and a potential demand for the recycled products. These last two requirements are often overlooked—without both an industrial market for production using the collected materials and a consumer market for the manufactured goods, recycling is incomplete and in fact only collection.
In pre-industrial times, there is evidence of scrap bronze and other metals being collected in Europe and melted down for perpetual reuse.[4] In Britain dust and ash from wood and coal fires was collected by 'dustmen' and downcycled as a base material used in brick making. The main driver for these types of recycling was the economic advantage of obtaining recycled feedstock instead of acquiring virgin material, as well as a lack of public waste removal in ever more densely populated areas.[3] In 1813, Benjamin Law developed the process of turning rags into 'shoddy' and 'mungo' wool in Batley, Yorkshire. This material combined recycled fibres with virgin wool. Home composting The West Yorkshire shoddy industry in towns such as Batley and Dewsbury, lasted from the early 19th century to at least 1914.
For a recycling program to work, having a large, stable supply of recyclable material is crucial. Three legislative options have been used to create such a supply: mandatory recycling collection, container deposit legislation, and refuse bans. Mandatory collection laws set recycling targets for cities to aim for, usually in the form that a certain percentage of a material must be diverted from the city's waste stream by a target date. The city is then responsible for working to meet this target.
In some cases, the cost of recyclable materials also exceeds the cost of raw materials. Virgin plastic resin costs 40 percent less than recycled resin.[56] Additionally, a United States Environmental Protection Agency (EPA) study that tracked the price of clear glass from July 15 to August 2, 1991, found that the average cost per ton ranged from $40 to $60, while a USGS report shows that the cost per ton of raw silica sand from years 1993 to 1997 fell between $17.33 and $18.10.