Hopper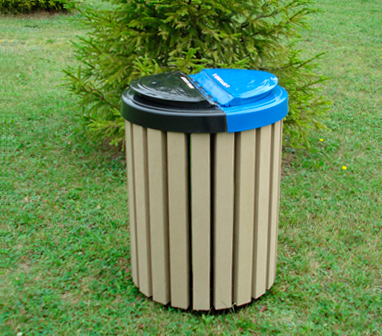 In some U.S. states, a program called RecycleBank pays people to recycle, receiving money from local municipalities for the reduction in landfill space which must be purchased. It uses a single stream process in which all material is automatically sorted.
In order to meet recyclers' needs while providing manufacturers a consistent, uniform system, a coding system is developed. The recycling code for plastics was introduced in 1988 by plastics industry through the Society of the Plastics Industry, Inc. Because municipal recycling programs traditionally have targeted packaging—primarily bottles and containers—the resin coding system offered a means of identifying the resin content of bottles and containers commonly found in the residential waste stream.
Many economists favor a moderate level of government intervention to provide recycling services. Economists of this mindset probably view product disposal as an externality of production and subsequently argue government is most capable of alleviating such a dilemma.
The design objectives behind the bin were efficient use of space and safety: to provide at least as much space as the older round bins, whilst reducing the risk of injury caused by moving it. This is important for both the householder and the waste collector, who risked injury through lifting the traditional bin or from sharp, or possibly contaminated objects in garbage bags. Standardisation of dimensions is important because the bins must be lifted by a standard sized hoist on the dustcart. The bins are lifted by the lip at the front which must be designed for maximum stiffness and mechanical strength. The underside of the lip is therefore reinforced by numerous ribs in the case of the thermoplastic bins. Steel bins have a much simpler lip owing to the properties of steel.
Beverage bottles were recycled with a refundable deposit at some drink manufacturers in Great Britain and Ireland around 1800, notably Schweppes. An official recycling system with refundable deposits was established in Sweden for bottles in 1884 and aluminium beverage cans in 1982, by law, leading to a recycling rate for beverage containers of 84–99 percent depending on type, and average use of a glass bottle is over 20 refills.