Lid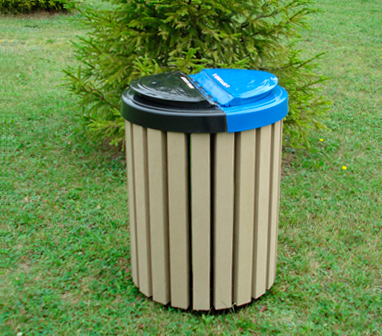 In pre-industrial times, there is evidence of scrap bronze and other metals being collected in Europe and melted down for perpetual reuse.[4] In Britain dust and ash from wood and coal fires was collected by 'dustmen' and downcycled as a base material used in brick making. The main driver for these types of recycling was the economic advantage of obtaining recycled feedstock instead of acquiring virgin material, as well as a lack of public waste removal in ever more densely populated areas.[3] In 1813, Benjamin Law developed the process of turning rags into 'shoddy' and 'mungo' wool in Batley, Yorkshire. This material combined recycled fibres with virgin wool. Lid The West Yorkshire shoddy industry in towns such as Batley and Dewsbury, lasted from the early 19th century to at least 1914.
Levels of metals recycling are generally low. In 2010, the International Resource Panel, hosted by the United Nations Environment Programme (UNEP) published reports on metal stocks that exist within society and their recycling rates. The Panel reported that the increase in the use of metals during the 20th and into the 21st century has led to a substantial shift in metal stocks from below ground to use in applications within society above ground. For example, the in-use stock of copper in the USA grew from 73 to 238 kg per capita between 1932 and 1999.
In a 2002 article for The Heartland Institute, Jerry Taylor, director of natural resource studies at the Cato Institute, wrote, "If it costs X to deliver newly manufactured plastic to the market, for example, but it costs 10X to deliver reused plastic to the market, we can conclude the resources required to recycle plastic are 10 times more scarce than the resources required to make plastic from scratch. And because recycling is supposed to be about the conservation of resources, mandating recycling under those circumstances will do more harm than good."
The glass, lumber, wood pulp, and paper manufacturers all deal directly in commonly recycled materials. However, old rubber tires may be collected and recycled by independent tire dealers for a profit.
In a 1996 article for The New York Times, John Tierney argued that it costs more money to recycle the trash of New York City than it does to dispose of it in a landfill. Tierney argued that the recycling process employs people to do the additional waste disposal, sorting, inspecting, and many fees are often charged because the processing costs used to make the end product are often more than the profit from its sale.[59] Tierney also referenced a study conducted by the Solid Waste Association of North America (SWANA) that found in the six communities involved in the study, "all but one of the curbside recycling programs, and all the composting operations and waste-to-energy incinerators, increased the cost of waste disposal."