Make a compost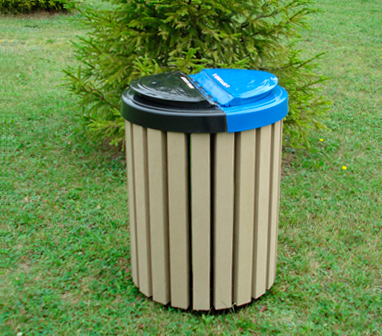 Other studies have shown that recycling in itself is inefficient to perform the "decoupling" of economic development from the depletion of non-renewable raw materials that is necessary for sustainable development. The international transportation or recycle material flows through "...different trade networks of the three countries result in different flows, decay rates, and potential recycling returns." As global consumption of a natural resources grows, its depletion is inevitable. The best recycling can do is to delay, complete closure of material loops to achieve 100 percent recycling of nonrenewables is impossible as micro-trace materials dissipate into the environment causing severe damage to the planets ecosystems. Historically, this was identified as the metabolic rift by Karl Marx, who identified the unequal exchange rate between energy and nutrients flowing from rural areas to feed urban cities that create effluent wastes degrading the planets ecological capital, such as loss in soil nutrient production. Energy conservation also leads to what is known as Jevon's paradox, where improvements in energy efficiency lowers the cost of production and leads to a rebound effect where rates of consumption and economic growth increases.
The northwestern United States has difficulty finding markets for recycled newspaper, given the large number of pulp mills in the region as well as the proximity to Asian markets. In other areas of the U.S., however, demand for used newsprint has seen wide fluctuation.
Recycling is a process using materials (waste) into new products to prevent waste of potentially useful materials, reduce the consumption of fresh raw materials, reduce energy usage, reduce air pollution (from incineration) and water pollution (from landfilling) by reducing the need for "conventional" waste disposal, make a compost and lower greenhouse gas emissions as compared to plastic production. Recycling is a key component of modern waste reduction and is the third component of the "Reduce, Reuse, Recycle" waste hierarchy.
In a 2002 article for The Heartland Institute, Jerry Taylor, director of natural resource studies at the Cato Institute, wrote, "If it costs X to deliver newly manufactured plastic to the market, for example, but it costs 10X to deliver reused plastic to the market, we can conclude the resources required to recycle plastic are 10 times more scarce than the resources required to make plastic from scratch. And because recycling is supposed to be about the conservation of resources, mandating recycling under those circumstances will do more harm than good."