Management of waste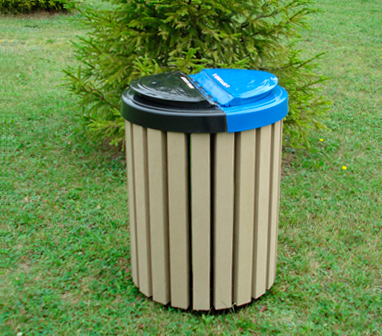 In certain areas there is also a recycling service, often with one or more dedicated bins intended to receive items that can be recycled into new products. These bins are sometimes separated into different categories (usually represented by colours) which determine what materials can be inserted into the bin. The contents of the bins are taken to a recycling plant to be processed, and there are various systems for recycling-bin collection: single-bin-combined stream systems, multiple-bin systems, and cyclic collections with different materials collected on different days.
A recycling bin (or recycle bin) is a container used to hold recyclables before they are taken to recycling centers. Recycling bins exist in various sizes for use in homes, offices, and large public facilities. Separate containers are often provided for paper, tin or aluminum cans, and glass or plastic bottles.
In some cases, the cost of recyclable materials also exceeds the cost of raw materials. Virgin plastic resin costs 40 percent less than recycled resin.[56] Additionally, a United States Environmental Protection Agency (EPA) study that tracked the price of clear glass from July 15 to August 2, 1991, found that the average cost per ton ranged from $40 to $60, while a USGS report shows that the cost per ton of raw silica sand from years 1993 to 1997 fell between $17.33 and $18.10.
In a 2002 article for The Heartland Institute, Jerry Taylor, director of natural resource studies at the Cato Institute, wrote, "If it costs X to deliver newly manufactured plastic to the market, for example, but it costs 10X to deliver reused plastic to the market, we can conclude the resources required to recycle plastic are 10 times more scarce than the resources required to make plastic from scratch. And because recycling is supposed to be about the conservation of resources, mandating recycling under those circumstances will do more harm than good."
The Energy Information Administration (EIA) states on its website that a paper mill uses 40 percent less energy to make paper from recycled paper than it does to make paper from fresh lumber. Some critics argue that it takes more energy to produce recycled products than it does to dispose of them in traditional landfill methods, since the curbside collection of recyclables often requires a second waste truck. However, recycling proponents point out that a second timber or logging truck is eliminated when paper is collected for recycling, so the net energy consumption is the same. An Emergy life-cycle analysis on recycling revealed that fly ash, aluminum, recycled concrete aggregate, recycled plastic, and steel yield higher efficiency ratios, whereas the recycling of lumber generates the lowest recycle benefit ratio. Hence, the specific nature of the recycling process, the methods used to analyse the process, and the products involved affect the energy savings budgets.