Plastic compost bin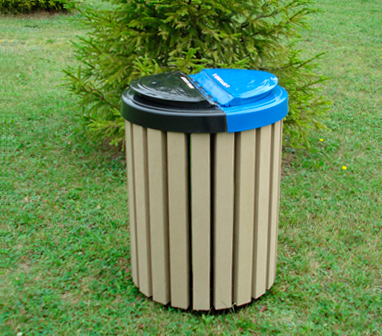 A recycling bin (or recycle bin) is a container used to hold recyclables before they are taken to recycling centers. Recycling bins exist in various sizes for use in homes, offices, and large public facilities. Separate containers are often provided for paper, tin or aluminum cans, and glass or plastic bottles.
Beverage bottles were recycled with a refundable deposit at some drink manufacturers in Great Britain and Ireland around 1800, notably Schweppes. An official recycling system with refundable deposits was established in Sweden for bottles in 1884 and aluminium beverage cans in 1982, by law, leading to a recycling rate for beverage containers of 84–99 percent depending on type, and average use of a glass bottle is over 20 refills.
Plastic compost bin
Curbside waste containers usually consist of three types: trash cans (receptacles often made of tin, steel or plastic), dumpsters (large receptacles similar to skips) and wheelie bins (light, usually plastic bins that are mobile). All of these are emptied by collectors who will load the contents into a garbage truck and drive it to a landfill, incinerator or crusher facility for disposal. The standard-sized UK wheelie bin household collection is 240 litres or more.
In some cases, the cost of recyclable materials also exceeds the cost of raw materials. Virgin plastic resin costs 40 percent less than recycled resin.[56] Additionally, a United States Environmental Protection Agency (EPA) study that tracked the price of clear glass from July 15 to August 2, 1991, found that the average cost per ton ranged from $40 to $60, while a USGS report shows that the cost per ton of raw silica sand from years 1993 to 1997 fell between $17.33 and $18.10.
In a 1996 article for The New York Times, John Tierney argued that it costs more money to recycle the trash of New York City than it does to dispose of it in a landfill. Tierney argued that the recycling process employs people to do the additional waste disposal, sorting, inspecting, and many fees are often charged because the processing costs used to make the end product are often more than the profit from its sale.[59] Tierney also referenced a study conducted by the Solid Waste Association of North America (SWANA) that found in the six communities involved in the study, "all but one of the curbside recycling programs, and all the composting operations and waste-to-energy incinerators, increased the cost of waste disposal."