Recycling glass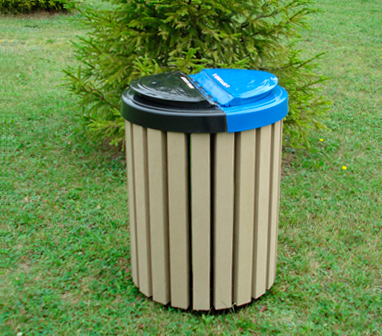 In a 2007 article, Michael Munger, chairman of political science at Duke University, wrote that "if recycling is more expensive than using new materials, it can't possibly be efficient.... There is a simple test for determining whether something is a resource... or just garbage... If someone will pay you for the item, it's a resource.... But if you have to pay someone to take the item away,... then the item is garbage."
Recycling glass
Curbside waste containers usually consist of three types: trash cans (receptacles often made of tin, steel or plastic), dumpsters (large receptacles similar to skips) and wheelie bins (light, usually plastic bins that are mobile). All of these are emptied by collectors who will load the contents into a garbage truck and drive it to a landfill, incinerator or crusher facility for disposal. The standard-sized UK wheelie bin household collection is 240 litres or more.
Certain requirements must be met for recycling to be economically feasible and environmentally effective. These include an adequate source of recyclates, a system to extract those recyclates from the waste stream, a nearby factory capable of reprocessing the recyclates, and a potential demand for the recycled products. These last two requirements are often overlooked—without both an industrial market for production using the collected materials and a consumer market for the manufactured goods, recycling is incomplete and in fact only collection.
The amount of money actually saved through recycling depends on the efficiency of the recycling program used to do it. The Institute for Local Self-Reliance argues that the cost of recycling depends on various factors around a community that recycles, such as landfill fees and the amount of disposal that the community recycles. It states that communities start to save money when they treat recycling as a replacement for their traditional waste system rather than an add-on to it and by "redesigning their collection schedules and/or trucks."
Economist Steven Landsburg has suggested that the sole benefit of reducing landfill space is trumped by the energy needed and resulting pollution from the recycling process. Others, however, have calculated through life cycle assessment that producing recycled paper uses less energy and water than harvesting, pulping, processing, and transporting virgin trees. When less recycled paper is used, additional energy is needed to create and maintain farmed forests until these forests are as self-sustainable as virgin forests.