Reuse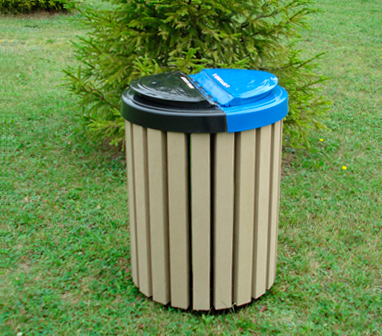 Reuse
Curbside waste containers usually consist of three types: trash cans (receptacles often made of tin, steel or plastic), dumpsters (large receptacles similar to skips) and wheelie bins (light, usually plastic bins that are mobile). All of these are emptied by collectors who will load the contents into a garbage truck and drive it to a landfill, incinerator or crusher facility for disposal. The standard-sized UK wheelie bin household collection is 240 litres or more.
Apartment buildings often have dust flumes in which residents can dispose of their waste in stainless steel waste containers. These chutes usually lead to some large receptacle or waste-disposal complex in the basement.
Although many government programs are concentrated on recycling at home, a large portion of waste is generated by industry. The focus of many recycling programs done by industry is the cost-effectiveness of recycling. The ubiquitous nature of cardboard packaging makes cardboard a commonly recycled waste product by companies that deal heavily in packaged goods, like retail stores, warehouses, and distributors of goods. Other industries deal in niche or specialized products, depending on the nature of the waste materials that are present.
A recycling bin (or recycle bin) is a container used to hold recyclables before they are taken to recycling centers. Recycling bins exist in various sizes for use in homes, offices, and large public facilities. Separate containers are often provided for paper, tin or aluminum cans, and glass or plastic bottles.
Economist Steven Landsburg has suggested that the sole benefit of reducing landfill space is trumped by the energy needed and resulting pollution from the recycling process. Others, however, have calculated through life cycle assessment that producing recycled paper uses less energy and water than harvesting, pulping, processing, and transporting virgin trees. When less recycled paper is used, additional energy is needed to create and maintain farmed forests until these forests are as self-sustainable as virgin forests.