Tray waste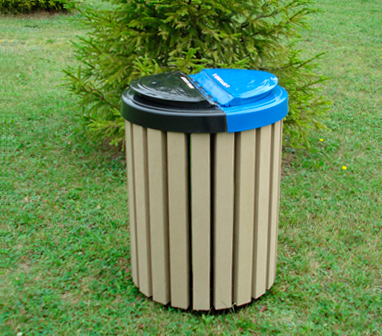 Plastic products are printed with numbers 1–7 depending on the type of resin. Type 1 plastic, PET (or PETE): polyethylene terephthalate, is commonly found in soft drink and water bottles. Type 2, HDPE: high-density polyethylene is found in most hard plastics such as milk jugs, laundry detergent bottles, and some dishware. Type 3, PVC or V (vinyl), includes items like shampoo bottles, shower curtains, hoola hoops, credit cards, wire jacketing, medical equipment, siding, and piping. Type 4, called LDPE, or low-density polyethylene, is found in shopping bags, squeezable bottles, tote bags, clothing, furniture, and carpet. Type 5 is PP which stands for polypropylene and makes up syrup bottles, straws, Tupperware, and some automotive parts. Type 6 is PS: polystyrene and makes up meat trays, egg cartons, clamshell containers and compact disc cases. Type 7 includes all other plastics like bulletproof materials, 3- and 5-gallon water bottles, and sunglasses.Types 1 and 2 are the most commonly recycled.
In a 2007 article, Michael Munger, chairman of political science at Duke University, wrote that "if recycling is more expensive than using new materials, it can't possibly be efficient.... There is a simple test for determining whether something is a resource... or just garbage... If someone will pay you for the item, it's a resource.... But if you have to pay someone to take the item away,... then the item is garbage."
In the strictest sense, recycling of a material would produce a fresh supply of the same material—for example, used office paper would be converted into new office paper, or used foamed polystyrene into new polystyrene. However, this is often difficult or too expensive (compared with producing the same product from raw materials or other sources), so "recycling" of many products or materials involves their reuse in producing different materials (e.g., paperboard) instead. Another form of recycling is the salvage of certain materials from complex products, either due to their intrinsic value (e.g., lead from car batteries, or gold from computer components), or due to their hazardous nature (e.g., removal and reuse of mercury from various items). Critics dispute the net economic and environmental benefits of recycling over its costs, and suggest that proponents of recycling often make matters worse and suffer from confirmation bias. Specifically, critics argue that the costs and energy used in collection and transportation detract from (and outweigh) the costs and energy saved in the production process; also that the jobs produced by the recycling industry can be a poor trade for the jobs lost in logging, mining, and other industries associated with virgin production; and that materials such as paper pulp can only be recycled a few times before material degradation prevents further recycling. Proponents of recycling dispute each of these claims, and the validity of arguments from both sides has led to enduring controversy.
In the past terrorists have left bombs in bins. The bomb is much less likely to be spotted than an unattended bag and the metal bins provide extra shrapnel that injures people nearby when it detonates. For this reason there are no bins in most railway stations, most airports and many shopping centres in the world, or if they are provided they are just a bin bag hanging from a metal hoop.
Economist Steven Landsburg has suggested that the sole benefit of reducing landfill space is trumped by the energy needed and resulting pollution from the recycling process. Others, however, have calculated through life cycle assessment that producing recycled paper uses less energy and water than harvesting, pulping, processing, and transporting virgin trees. When less recycled paper is used, additional energy is needed to create and maintain farmed forests until these forests are as self-sustainable as virgin forests.