Two-way collection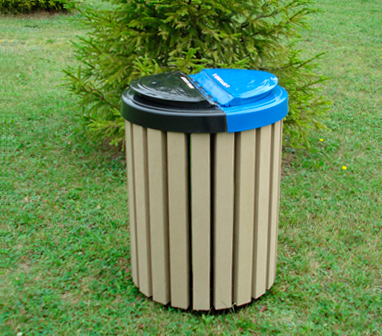 Two-way collection
Curbside waste containers usually consist of three types: trash cans (receptacles often made of tin, steel or plastic), dumpsters (large receptacles similar to skips) and wheelie bins (light, usually plastic bins that are mobile). All of these are emptied by collectors who will load the contents into a garbage truck and drive it to a landfill, incinerator or crusher facility for disposal. The standard-sized UK wheelie bin household collection is 240 litres or more.
In certain areas there is also a recycling service, often with one or more dedicated bins intended to receive items that can be recycled into new products. These bins are sometimes separated into different categories (usually represented by colours) which determine what materials can be inserted into the bin. The contents of the bins are taken to a recycling plant to be processed, and there are various systems for recycling-bin collection: single-bin-combined stream systems, multiple-bin systems, and cyclic collections with different materials collected on different days.
Bins in outdoor locations or other busy public areas are usually mounted to the ground or floor. Two-way collection This discourages theft, and also reduces vandalism by making it harder for the bins to be physically moved or maneuvered.
The smaller wheelie bins, for domestic or light commercial use, typically hold 120 to 360 litres (26 to 79 imp gal; 32 to 95 US gal), with 240 litres (53 imp gal; 63 US gal) being the most common. They have a hinged flap lid and two wheels on the bottom on the same side as the lid hinge. There is a bar behind the hinge on the top of the bin which is used to move it, or to hoist it up onto a garbage truck for emptying. Two-way collection The 240 litre bin is usually considered to have the same capacity as three traditional waste containers. In the UK, "wheelie bins" for non-recyclable domestic waste are currently collected either weekly or once a fortnight, depending on the local Council's waste management policies.
Beverage bottles were recycled with a refundable deposit at some drink manufacturers in Great Britain and Ireland around 1800, notably Schweppes. An official recycling system with refundable deposits was established in Sweden for bottles in 1884 and aluminium beverage cans in 1982, by law, leading to a recycling rate for beverage containers of 84–99 percent depending on type, and average use of a glass bottle is over 20 refills.