Waste container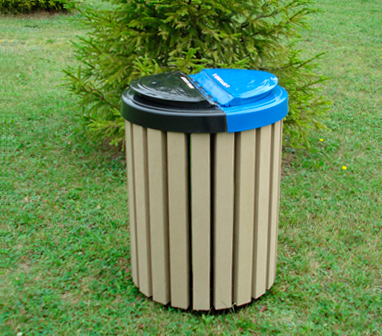 Both minimum recycled content mandates and utilization rates increase demand directly by forcing manufacturers to include recycling in their operations. Content mandates specify that a certain percentage of a new product must consist of recycled material. Utilization rates are a more flexible option: industries are permitted to meet the recycling targets at any point of their operation or even contract recycling out in exchange for tradeable credits. Opponents to both of these methods point to the large increase in reporting requirements they impose, and claim that they rob industry of necessary flexibility.
The Energy Information Administration (EIA) states on its website that a paper mill uses 40 percent less energy to make paper from recycled paper than it does to make paper from fresh lumber. Some critics argue that it takes more energy to produce recycled products than it does to dispose of them in traditional landfill methods, since the curbside collection of recyclables often requires a second waste truck. However, recycling proponents point out that a second timber or logging truck is eliminated when paper is collected for recycling, so the net energy consumption is the same. An Emergy life-cycle analysis on recycling revealed that fly ash, aluminum, recycled concrete aggregate, recycled plastic, and steel yield higher efficiency ratios, whereas the recycling of lumber generates the lowest recycle benefit ratio. Hence, the specific nature of the recycling process, the methods used to analyse the process, and the products involved affect the energy savings budgets.
Economist Steven Landsburg has suggested that the sole benefit of reducing landfill space is trumped by the energy needed and resulting pollution from the recycling process. Others, however, have calculated through life cycle assessment that producing recycled paper uses less energy and water than harvesting, pulping, processing, and transporting virgin trees. When less recycled paper is used, additional energy is needed to create and maintain farmed forests until these forests are as self-sustainable as virgin forests.
In a 2002 article for The Heartland Institute, Jerry Taylor, director of natural resource studies at the Cato Institute, wrote, "If it costs X to deliver newly manufactured plastic to the market, for example, but it costs 10X to deliver reused plastic to the market, we can conclude the resources required to recycle plastic are 10 times more scarce than the resources required to make plastic from scratch. And because recycling is supposed to be about the conservation of resources, mandating recycling under those circumstances will do more harm than good."
The smaller wheelie bins, for domestic or light commercial use, typically hold 120 to 360 litres (26 to 79 imp gal; 32 to 95 US gal), with 240 litres (53 imp gal; 63 US gal) being the most common. They have a hinged flap lid and two wheels on the bottom on the same side as the lid hinge. There is a bar behind the hinge on the top of the bin which is used to move it, or to hoist it up onto a garbage truck for emptying. Waste container The 240 litre bin is usually considered to have the same capacity as three traditional waste containers. In the UK, "wheelie bins" for non-recyclable domestic waste are currently collected either weekly or once a fortnight, depending on the local Council's waste management policies.